Cupertino's Premier Bathroom Remodeling Company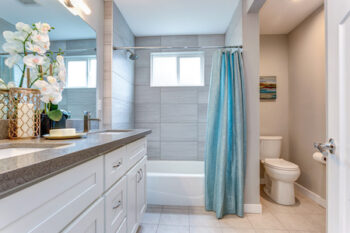 Welcome to Blue Spade Construction, Cupertino's premier bathroom renovation experts. If you're looking to elevate your bathroom into a luxurious and rejuvenating space, Blue Spade is here to bring your vision to life. With our expertise in bathroom remodeling, we transform ordinary bathrooms into extraordinary rooms that combine functionality, style, and relaxation. We also offer kitchen remodeling, home additions and general contracting for all of your renovation needs.
Customized Bathroom Design To Fit Your Needs
We understand that your bathroom remodeling services should be a reflection of your wants and needs. Our expert team works with you to understand your vision and requirements. We pay meticulous attention to every detail, ensuring that the layout, fixtures, finishes, and materials align with your vision. Our extensive remodeling services include replacing outdated fixtures with modern, energy-efficient options, installing elegant countertops and vanities that fit your needs, and selecting high-quality bath tiles and flooring that add a touch of sophistication. We source materials from trusted suppliers to ensure durability and exceptional craftsmanship.
Make Your Bathroom Remodel Ideas A Reality
We believe that a well-designed bathroom should be visually stunning and highly functional. Our team analyzes your needs and daily routines to optimize the layout and maximize the functionality of your bathroom. We can create innovative storage solutions to keep your space organized and clutter-free. Whether installing custom-built cabinets, incorporating smart storage options, or enhancing the shower and bath area for ultimate relaxation, we ensure that every element serves a purpose and enhances your overall experience. We also offer a range of lush touches and upgrades to transform your bathroom into a personal retreat. These may include spa-like features such as luxury bathtub replacements, rain showerheads, dual vanities, radiant floor heating, and ambient lighting. Our goal is to create a space that indulges your senses and provides a haven of relaxation within your own home.
What Bathroom Remodel is Right For Your Home?
Whether you're seeking a bathroom facelift to match your style or a complete overhaul with a new layout, Blue Spade understands the various considerations in a bathroom remodel. If you reside in a single-story family home, the possibilities are endless, limited only by your preferences and budget. Multi-level homes may have their own challenges, as the room underneath can affect the plumbing required below. However, we are an experienced bathroom remodeler with the tools to make almost any dream a reality, no matter how large or many stories your home has. We are proud to think outside the box and come up with solutions to getting everything you desire from your home.
Bathroom Remodeling Done On Your Schedule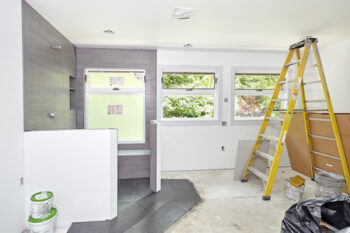 Your satisfaction is our top priority at Blue Spade Construction, and we pride ourselves on delivering a seamless construction process. We always offer a comprehensive and detailed quote before we begin our remodeling project, so there are never surprises. Our experienced team of professionals handles every aspect of the remodel, ensuring that the project progresses smoothly and efficiently. We coordinate with trusted subcontractors, manage permits, and maintain open lines of communication throughout the entire process. We understand the importance of keeping your construction project on schedule and keeping you informed of our progress at every step. You can trust us to deliver exceptional results while providing a stress-free experience throughout the remodeling journey.
Stop Searching For Bathroom Remodeling Near Me, Call Us!
Ready to embark on your bathroom remodeling journey? Call Blue Spade Construction today and let us transform your bathroom into a luxurious retreat that reflects your personal style and meets your every need. With our expertise, attention to detail, and dedication to customer satisfaction, we guarantee exceptional results that will leave you delighted with your new bathroom. Trust Blue Spade Construction to bring your dream bathroom remodel to life.